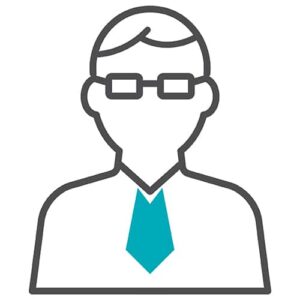 Amit Krishn Gulati
Founder Partner at Design 21
Amit Krishn Gulati is an award winning industrial designer, entrepreneur and design educator with a multifaceted oeuvre encompassing New Product Development, Healthcare, Hotels & Hospitality, Branding, Built Environments and Retail Experiences.
Amit completed the post-graduate programme in Industrial Design from the National Institute of Design (NID), Ahmedabad in 1995 and is the co-founder of Incubis, one of India's leading architecture and design companies with several Fortune 500 clients.
Incubis is known for its path-breaking 'frugal innovation' projects, exemplified by the creation of a range of affordable maternal infant-care devices for GE Healthcare, modular polyclinics for the Delhi Government and Ginger, the 'smart' hotel chain for the Tata Group.
Amit is passionate about mentoring entrepreneurs and works closely with many start-ups. He is one of the founding investors at Barista, India's pioneering espresso retailer, Abisko, a solar solutions venture and Eye-Q, a successful and fast-growing chain of affordable eye hospitals. Amit, and the team at Incubis, designed and helped execute the iconic 100 meter 'Mudra' installation that has become the celebrated symbol of the International Airport at New Delhi. Amit is actively engaged in creating design awareness and has served on the CII National Committee on Design for several years and is the Vice President-National Executive Council of the Association of Designers of India (ADI).
In addition to leading the design team at Incubis, Amit teaches at The School of Planning and Architecture – New Delhi, Ambedkar University – Delhi, Anant National University – Ahmedabad and at his alma-mater, NID- Ahmedabad.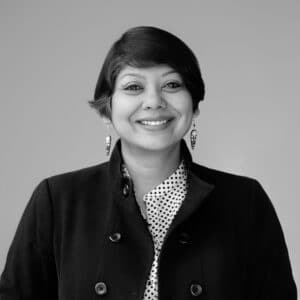 Amrita Dasgupta
Co-Founder/Partner at Studio CoDe
Amrita Dasgupta is an architect and visual designer who believes in the transformative power of good design.
A founding partner of award winning multidisciplinary Studio Code in New Delhi, Amrita is a LEED 2.1 Accredited Professional and has studied and worked in New York, New Delhi and Philadelphia working across published projects in architecture, landscape, urban design and communication design.
Amrita currently teaches at both B.Arch and M.Arch programs at the Sushant School of Art & Architecture in Gurgaon. She has previously taught at the Indian School of Design and Innovation (Parsons) Mumbai and the University School of Architecture and Planning, Delhi. Amrita has taught, juried and lectured classes at the Massachusetts Institute of Technology, the Parsons School of Design, NYC, and several architectural institutions in India. Her academic work has been published in the Metropolis Magazine and exhibited at the Rockefeller Center.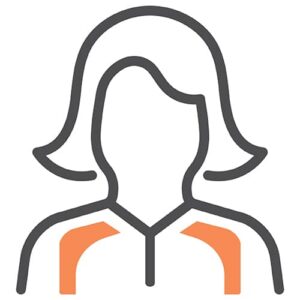 Akila Seshasayee
Founder and Chief Designer at Toile Indienne
Akila's latest entrepreneurial venture is Toile Indienne (TI), a textile design firm, started in 2017, with a belief that Indian textiles do not have any one style. It is through TI that Akila and her partner, Pankaj Kehr, seek to tell wonderful stories about who we are. Toile Indienne has already won accolades as the winner in the textile design category at the prestigious Lexus Design Award India 2018.
TI is born out of Akila's love of textiles. It is also a realisation that the Indian textile story has become so centred on Jaipuri prints alone that it was up to Pankaj and her to explore and showcase the vast wealth of stories, histories, myths, legends and culture that is India.
Akila also founded in 1998 and is a partner in a graphic design studio called Designosis. Over the years Designosis has built a stellar reputation for handling a broad spectrum of projects (ranging from branding and corporate communications to magazine design) as well as providing excellent client servicing. It is one of the few handful of studios that has the skill and experience to work on projects as diverse as website design and newspaper design. Some of its corporate clients are amongst India's top 100 companies, and include banks, real estate companies and auto component makers.
Before starting her entrepreneurial journey with Designosis, Akila's experience spanned as an Associate Producer in a TV channel, as an Art Director for the Indian Express Sunday Magazine and also for a magazine called "Down to Earth". She started her career as a designer at Times of India.
Akila is passionate about typography and her work features in India: Contemporary Design: Fashion, Graphics, Interiors published by the V&A. She has also taught typography at the National Institute of Design.
She believes that good edi¬torial design doesn't mean merely pushing bits of text and pictures around to create a layout, but it truly needs to engage with content to create pages for people to read.
Akila has a degree in Visual Communication (Graphic Design) from National Institute of Design, Ahmedabad, where she was strongly influenced by Bauhaus and designers like Saul Bass, Adrian Frutiger, Paul Rand, Milton Glaser, and so on. These designers, and the privilege of working with an incredibly talented bunch of people in editorial, art and photography have influenced the work that she does today.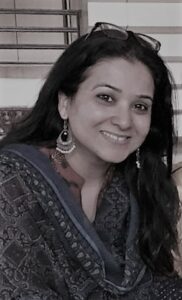 Ira Khulbe Agarwal
Visiting Faculty
Expertise in Programming , Planning , Design management & Interior Architecture. International experience with SOM & HOK.