Proposing Framework for Dynamics of Green Purchase Behavior in India: An empirical study of Mumbai and Navi Mumbai
The paper mainly focuses on the identification of important factors that affect green purchasing behavior of Indian consumers. A total of 694 (416 males and 278 females) consumers from Mumbai and Navi Mumbai were selected randomly from various management institutes. A survey has been conducted with them on their green purchasing behavior i.e. Concern for health and environment, eco buying attitude, Social Responsibility, Eco authenticity, Social awareness and value, Lifestyle, Absence of market presence, Promotion, Brand consciousness, Indifferent attitude and Packaging. Factor analysis showed that 'Concern for health and Environment' is the most important factor for Indian consumers as far as their green purchasing behavior is concerned, which is followed by "Packaging" as second, Eco-certification as third, and Lifestyle as fourth most important factor. A major limitation of this study is that the framework suggested was based on data collected from metro city Mumai and Navi Mumbai and need to encompass rural demographics also. This paper contributes as a useful source of information for international green marketers and producers of green products about what works and what does not work in appealing to the consumers in India. This paper is one of the pioneer study in the field of green marketing. This is an attempt to identify and profile the factors that are important to the consumers of green products in a developing country like India. It offers hands-on guidelines to international green marketers and producers planning to target the developing countries like India and China.
Introduction
The present Indian scenario is staring at of ruined environment and is paying a hefty price in terms of health and economics (Nagdeve, 2002). Indian market is flooded with commodities claiming to be green. The government has already announced subsidies for production of green compatible commodities and for adhering to the clean development mechanism (CDM) norms to minimize carbon prints. The corporate world has come forward to reap the profits generating from going green from the state as well as from consumers.
The present market is doing everything to attract consumers who are also franchising their precious "vote" with every purchase they make (Ottman et al., 2006; Polonsky,1994; Prakash, 2002) and hence applying a lot of importance on selecting the commodities which has an ethical relevance. Although lots of hard work has been deployed by the companies to sell products pasted with gree n labels, the consumption of these green products in the Indian market is still negligible (Aggrawal, et al., 2010). Consumer understanding for GREEN has to still pick up (Chris Ely, 2010). The various studies conducted in developed countries clearly indicated a good 90% of the consumer's were conversant with aspects such as 'recycling', 'energy efficiency', 'organic' and 'global warming' also the consumers purchased environmentally friendly commodities, even if it meant purchasing products at a higher price (Hume 1997; Miller 1993).
Tackling issues regarding consumer behaviour and behaviour associated to green concepts and activities, amongst the biggest issues in front of the industry is how environmental consciousness and concerns can be tackled when the consumers make the buying decision. An 'attitude-behaviour gap' has been observed where something around 30% of consumers have reported their concern about environmental issues but they are failing to transform this into their purchasing. (Young, Hwang & Caroline J. Oates, 2010). This particular gap is even larger in developing economies.
Green Marketing is not a very longstanding concept still it has got its share of awareness since its inception. The conceptualization of green marketing has come into depiction on first Earth Day in 1970 and also later the American Marketing Association had organized a workshop on Ecological Marketing in 1975, when people started discussing about eco-friendly marketing strategies. But the concept was not given its due importance till 1980s, when ever increasing general interest in the environmental friendliness transformed into an augmented demand for more eco-friendly products and services.
The primary significant work on ecological marketing was contributed by Henion and Kinnear in 1976. In 1976 Henion and Kinnear, defined the ecological marketing as "the study of the positive and negative aspects of marketing activities on pollution, energy depletion and non-energy resource depletion (Henion and Kinnear as quoted by Polonsky 1994)". They further went on to define ecological marketing as "The implementation of marketing programs directed at the environmentally conscious market segment" (Henion 1976). The concept on further evolution led to "The process of planning, implementing and controlling the development, pricing, promotion and distribution of products in a manner that satisfies the following criteria-Customer needs are met, Organizational goals are attained, and the processes are compatible with ecosystems" (Fuller 1999).
Even though there has been a steep rise in its popularity, the green marketing movement has also been plagued by some serious setbacks in the late 80s (Peattie and Crane 2005). This happened due to many companies started making false claims about their products being green without any certification. This phenomenon has been described by media as "Greenwashing". Further Ottman (2006) coined the term 'Green Myopia'.
Although lots of literature is being generated on Green Marketing still there is a shortage of proper understanding on consumer behavior and towards their reaction to Green products (Aggrawal A., et al., 2010). Studies on green marketing in Asian countries are very less as compared to the Western world where many studies are coming out on this phenomenon (Lee, 2008). There are only few to name (Chan, 2001; Yam-Tang and Chan, 1998), trying to understand the potential consumers in Asian market. Under this circumstances it becomes more imperative to understand the customers in developing economies like India and also various other issues that influence consumer Green purchase behaviour.
The prediction is that many international corporations would be willing to implement strategies pertaining to green marketing in the developing world markets for the following reasons:
1. In the countries like China and India, extensive harnessing of resources has led to pollution and the rapid deterioration in the quality of environment in Asia which has become center of concern for local and global authorities today (Martinsons et al., 1997)
2. Besides developed countries, the developing countries and mainly Asian countries and population are more and more becoming aware of disturbing environmental problems (Johri and Sahasakmontri, 1998)
3. Asian countries are in a process of revising the policies and business strategies related to environmental protections and are focusing more on long term sustainable development (Johri and Sahasakmontri, 1998); Martinsons et al., 1997)
4. Considerable rises in financially-sound consumers in developing economies in Asia have more spending power (Li and Su, 2007; Tai and Tam, 1997; The Economist, 2006).
The above mentioned studies clearly indicates that there is a potential market present in Asian countries and the consumers having more purchasing capacity are ready to buy green products if marketed suitably.
Although "Green" has become a buzz word in the Asian countries, little has been done by scholors to understand the consumer behavior in this field. And due to this unavailability of market information, the success of international expansion of green products is facing a setback (Gura˘u and Ranchhod, 2005). Keeping this facet in mind the present study has been designed to understand the factors affecting the green purchasing behaviour in India.
Objective of the Study
The objectives designed for the present study are –
1. To determine the factors affecting Green purchasing behaviour among Indian consumers
2. To determine most important and least important factors affecting green purchasing behaviour.
3. To give recommendations and suggestions to increase the uptake of green products in India.
Research Methodology
Development of Questionnaire
The questionnaire was designed by consulting many studies to understand the various constructs for the designing of the questionnaire (Lee, 2008) and by conducting a brain storming session on factors affecting Green purchase behavior in India with 120 students and faculty members. Many factors have been identified such as ecological awareness, social responsibility towards environment, health awareness, stressful life, promotion of green products, presence, packaging, eco-certification, etc. Based upon these various factors a framework has been developed.
Proposed Framework For Dynamics of Green Purchasing Behaviour In india
Studies by Samli (1992) and Miller (1993) both concluded that demographics is considered as an important variable as far as green product purchase behavior is concerned. Demographics of any area, the social awareness for environment and health are closely related. Roberts (1996) also give much importance to the demographics and concluded that females in older age group and with higher education are more prone to adopt green products and life style. Whereas another study throwing light on gender difference in adoption of green products reveals that women appeared to be less aware of environmental issues as compared to men (Mohamed M. Mostafa, 2007). Taking clue from these studies, we have derived our first proposition-
Pl: Demographics has a relation with green purchase behavior. Specifically demographics such as, higher incomes, levels of education, and gender, are more likely to lead to green purchase behavior than lower levels of education and income.
Green consumptions are enabled by positive attitudes of buyers toward (a) environmental protection, (b) fair trade, (c) local products, and (d) availability of action-related knowledge (Tanner C & Kas, 2007) which in turn marks producers of green products and influence their economic results (Andre et al., 2008). Social influence was considered by some researchers as the top predictor of green purchasing behaviour (Lee, 2008).
Social accountability has been considered as an important persuading variable for green purchase behaviour (Gerpott and Mahmudova, 2010). Lifestyle or status symbol also influences the purchase decision. (Griskevicius, Tybur and Bergh, 2010).
This leads to our second proposition:
P2: Environmental responsiveness has a relation with green purchase behavior. Specifically, social responsibility, concern for health and environment, eco-buying attitude, social awareness are more likely to lead to green purchases.
Market dynamics plays an important role in the promotion of the green products in any area. Consumers are expecting greater concern for environment from the producers of green products and it becomes the responsibility of the corporate world to fulfill the aspirations of consumers. Therefore it is important to apprehend the dynamics that contribute to the consumer's perception of green products and green purchase behaviour. D'Souza et al., (2006) identify six factors: 1) perception of the company as a whole, 2) compliance with environmental regulation, 3) perception of the relationship between price and quality, 4) perception of the product characteristics, 5) product labeling, and 6) previous consumer experience with the company or product. From here we have derived our third proposition:
P3: Market presence and promotion has a relation with green purchase behavior. Specifically, green packaging, price, promotion and availability are more likely to lead to green purchases.
Proposed Framework For Factors Affecting Green Purchase Behaviour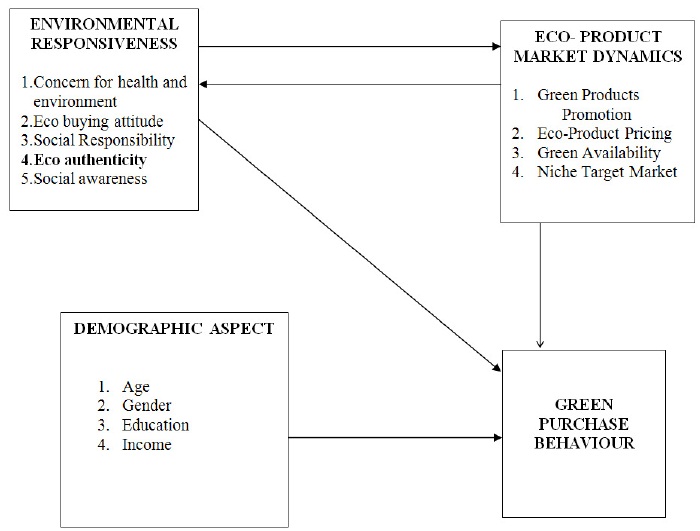 Based on the above framework a questionnaire was designed with 640 questions. Based on the face validity and repeatability the number of questions was reduced to 150.
The questionnaire designed for the purpose keeping in view the above mentioned framework was divided into three parts-
1. Environmental Responsiveness
2. Eco product market dynamics                                                                                                                                                          3. Demographic profile
A pilot testing was done with these 150 questions and finally an instrument of 43 questions was developed. A Likert scale of five point was used to collect the responses.
Data has been collected from 695 respondents from various parts of Mumbai and Navi Mumbai.
Results
An exploratory factor analysis was used in this study keeping in view the fact that there are differences between consumer's perception in relation to their environmental friendly behavior, also that the number of variables used in this research are quite large.
In order to carry out the factor analysis, the principal components method was used to extract the factors. In the initial stage of analysis, the variables were grouped into eleven factors which all together accounted for 53.43 per cent of the total variance. To further understand and interpret the results, the factors were rotated using the Varimax method. The description of the factors is shown in Table I.
As can be seen, according to the score obtained in the Kaiser-Meyer-Olkin measure, the results of the analysis can be considered excellent (Kaiser, 1974). Bartlett's test of sphericity has a significance level of 0.000, showing that there is a high degree of correlation between the variables, which means that the factor analysis was suitable (Hair et al., 1998).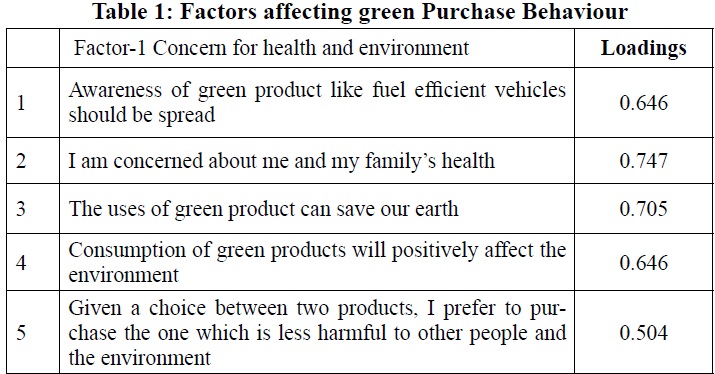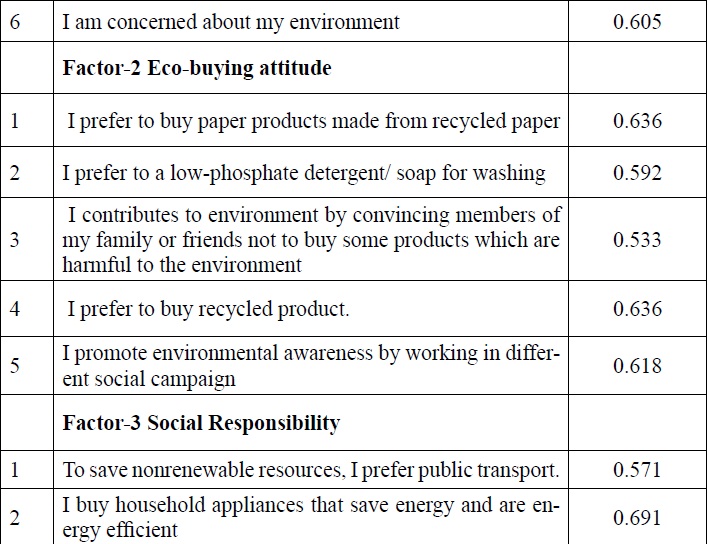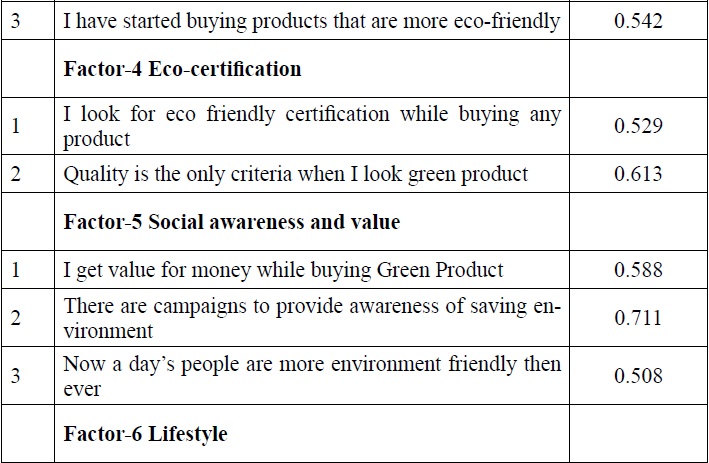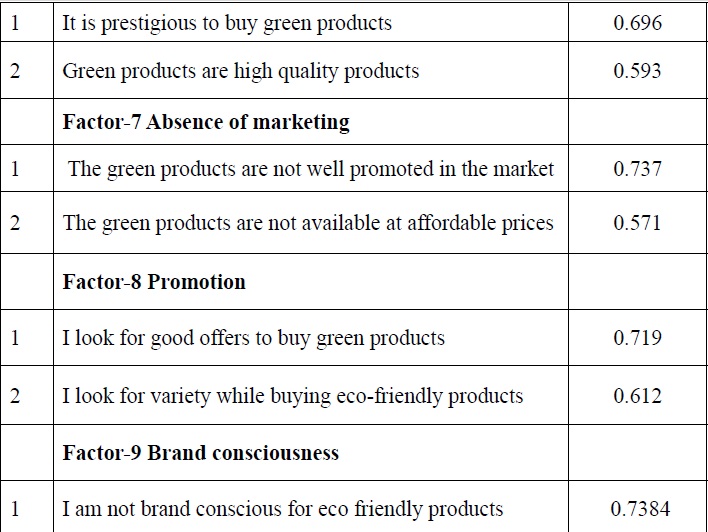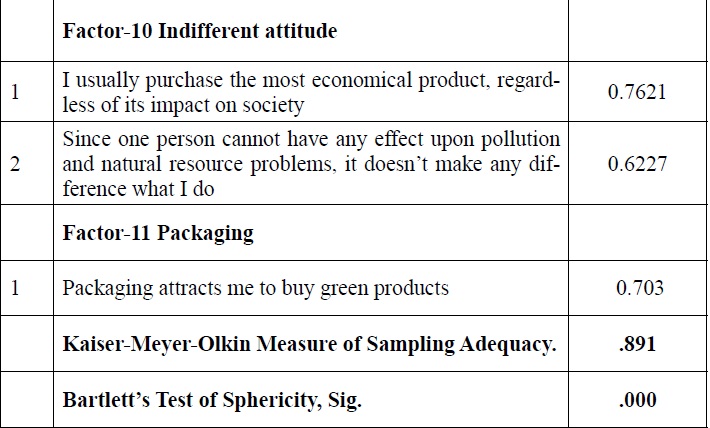 Result from Table-II shows that Concern for health and environment was considered as most important factor by the Indian consumers in green purchasing behavior, followed by Packaging as the second, eco-certification as the third, and Lifestyle as the fourth most important factor while Indifferent attitude is considered as least important factor, followed by brand consciousness and eco-buying attitude. This clearly indicates that more and more Indian consumers are getting conscious about health and environment and they are looking forward for more companies coming out with the eco-friendly or green products. Packaging that reveals the content of the product or gives a visual effect of being green in nature is appreciated by the consumers. Further the consumers delve in to the eco-ertification or the symbol present on the product. Buying of green product is also becomes a status symbol for the Indian consumers so promoting the products in a niche market will also help the producers of the green products.
Conclusion
Indian population is increasingly growing conscious about the use of ecofriendly products although the marketing of eco-friendly products is still in its infancy. The trends from this data show that consumers in metro cities in India are increasingly becoming health and environment conscious still the purchase decision is not happening at the same pace which clearly indicates that in growing economies like India green marketing should also consider the economic aspect of marketing. Packaging is also considered as one of the influential factor so along with the price the right kind of packaging which clearly depicts the eco-friendly value of the product is a must for the consumers.
Eco-buying attitude is not given much importance by Indian consumers which clearly indicate that despite high consciousness for health consumers are not buying green products. Marketers need to work on spreading awareness about green products. Marketers also have the duty to ensure to that the consumers realize the necessity and benefits of green products as compared to non-green ones. There is a niche area where consumers like to pay willingly, to maintain a cleaner and greener environment provided they are appraised for the same by the market players. Marketers should pay attention to them and should tap them first in order to create a band wagon effect for eco-friendly products.
References
Aggrawal A., Chaudhary R. & R. Gopal, (2010) 'Addressing Green Myopia by bundling Technology with Awareness in Emerging Economies: Some learning from failure stories in India' in Nicholas, S., & Ranjan, J. (Eds.). Managing Business Organizations, Knowledge and the External Environment. New Delhi, India: Macmillan Publishers India Pvt. Ltd, pp. 341-6.
Călin Gurău & Ashok Ranchhod, (2005) 'International green marketing: A comparative study of British and Romanian firms', International Marketing Review, 22: 5, pp.547-561.
Carmen Tanner, Sybille Wolfing K. (2003) 'Promoting sustainable consumption: Determinants of green purchases by Swiss Consumers', Psychology & Marketing, Hoboken: 20:10; pp. 883.
Chris Ely, (2010) 'What Green Means to Consumers & the Industry', Dealerscope, 52:3, pp. 26. Donald A. Fuller (1999) 'Sustainable Marketing: Managerial – Ecological Issues', SAGE Publications, Inc.
Esther P.Y. Yam‐Tang, Ricky Y.K. Chan, (1998), 'Purchasing behaviors and perceptions of environmentally harmful products', Marketing Intelligence & Planning, 16:6, pp. 356-362.
Griskevicius, Tybur, & Bergh (2010) 'Going Green to Be Seen: Status, Reputation, and Conspicuous Conservation' Journal of Personality and Social Psychology, 98: 3; pp. 392 Hume, Scott (1991) 'Consumer Double-talk Makes Companies Wary', Advertising Age, 62:46, pp. 4.
Kaman Lee (2008) 'Opportunities for Green Marketing: Young Consumers', Marketing Intelligence & Planning, 26:6, 573-586.
Lalit M. Johri, Kanokthip Sahasakmontri (1998) 'Green marketing of cosmetics and toiletries in Thailand', Journal of Consumer Marketing, 15:3, pp. 265-281.
Li, Julie Juan and Chen-ting Su (2007) 'How Face Influences consumption: A comparative Study of American and Chinese Consumers', International Journal of Market Research, 49: 2, pp. 237-256.
Martinsons, M.G., So, S.K.K., Tin, C. and Wong, D. (1997) 'Hong Kong and China: emerging markets for environmental products and technologies', Long Range Planning, 30:2, pp. 277-90.
Miller, Cyndee (1993) 'Privacy vs Direct Marketing: Industry Faces Something on the order of a Survival Issue', Marketing News, 27:5.
Mohamed M. Mostafa (2007) 'Gender differences in Egyptian Consumers' Green Purchase Behaviour: The Effects of Environmental Knowledge, Concern and Attitude', International Journal of Consumer Studies, 31: 3, pp. 220. Nagdeve, D.J. (2002) 'Environment and Health in India', Paper presented at the IUSSP Regional Population Conference on Southeast Asia's Population in a Changing Asian Context at Bangkok, Thailand. Ottman J.A., Edwin R.S., & Cathy L.H., (2006) 'Green Marketing Myopia, Environment',
Heldref Publications, 48: 5, pp. 22-36.
Peter Aldhous (2010) 'Exposed: Green Shoppers' Dirty Little Secrets', New Scientist, 205:2753, pp.11.
Polonsky, M.J. (1994) 'An Introduction to Green Marketing', Electronic Green Journal, 1:2.
Prakash, A. (2002) 'Green Marketing, Public Policy and Managerial Strategies', Business Strategy and the Environment, 11, pp. 285-297.
Ricky Y.K. Chan (2001) 'Determinants of Chinese Consumers' Green Purchase Behavior', Psychology & Marketing, 18: 4, pp. 389-413.
Tai Susan H.C. and Jackie L.M.T. (1997) 'A Lifestyle Analysis of Female Consumers in Greater China', Psychology & Marketing, 14:3, pp. 287-307. The Economist (2006) 'Leaders: America Drops, Asia Shops', The Economist, 381, pp. 11.
Torsten J Gerpott, Ilaha Mahmudova (2010) 'Determinants of Green Electricity Adoption
among Residential Customers in Germany', International Journal of Consumer Studies, 34: 4, pp. 464.
Young W., Kumju H., Seonaidh M., and Caroline J.O. (2010) 'Sustainable Consumption: Green Consumer Behavior when Purchasing Products', Sustainable Development, 18:1, pp. 20.
Dr. Artee Aggrawal is presently Assistant Professor with Amity University, Mumbai, Maharashtra, India. Email: artee.aggrawal@gmail.com.
Dr. R. Nargundkar is presently Professor of Marketing at IIM Indore.