Vedatya Institute Gurugram Organizes Two Day Event – Chaupal 2021
Vedatya Institute, one of India's finest hotel management & culinary colleges, organized its annual and biggest event in December 2021. The event was named "Chaupal 2021" and was spread over two days – 18th & 19th December 2021. The first day of the event was conducted online and the focus of the day was to invite national & international speakers to present their research on a variety of topics related to the service industry. 
Dr. Satish Jayaram, former Principal, IHM Aurangabad was invited as the keynote speaker for the online service conference and over 50 academicians and industry practitioners gathered, from different parts of India and Asia, to discuss and debate the latest conceptual and critical learning aspects linked with the education and training of our students and disseminate research in areas of mutual interest.
Day two was completely a student-led event that brought students, parents, alumni, and industry professionals to Vedatya's campus in a rustic, green, pollution-free setting. The day was kicked off with a panel discussion on the way forward for the hospitality & tourism sector in the post-pandemic world. On the panel were some industry professionals – Cyrus Madan, Senior VP – Business Development India, Sri Lanka, Bhutan, and Nepal at Atmosphere Hotels & Resorts (AH&R) and Neeraj Chandok, CEO & Founder of Building Block Customer Services.  
Participants were given a guided tour of Vedatya's farms and knowledge on organic farming, slow food & sustainability practices applied by the institute. Other activities include a clay workshop, chef competitions, and a retail shop run by the students on campus.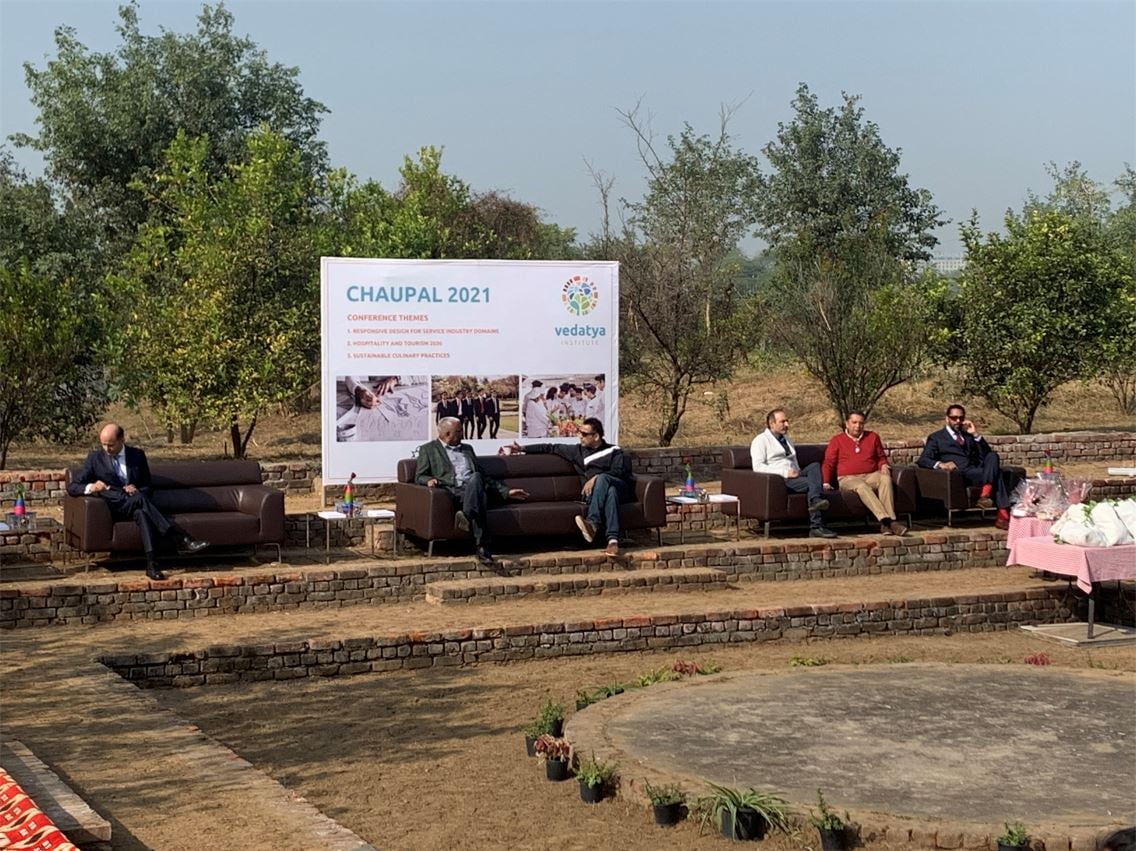 Sandeep Munjal, Director, Vedatya Institute said "It is an overwhelming moment to be able to host our guests in person once again and it was very energizing to see our students manage the event end to end. I am also very grateful to all the speakers & industry professionals who joined us on the first day of the conference from different parts of the world. 
We had some great discussions on trends in the service industry and how the education system needs to adapt to those new changes. As always, we will take these learning from the conference and share them with the industry as well as evaluate our program structures and offerings to ensure we stay ahead and train our students to be industry leaders of tomorrow."
Neeraj Chandok, CEO & Founder of Building Block Customer Services said "It was great to visit Vedatya Institute Gurugram for Chaupal 2021 & witness a range of initiative & activities at Vedatya. Panel discussion at amphitheater under the sun surrounded by lush green farmland with organic produce was one of the best experience. 
A big Thank you to Dr. Anjana Singh, Head of School of Hospitality & Tourism Management and special thanks to the Vedatya team for organizing such a memorable event."