Make The Perfect Chocolate Mirror Glaze
What is a Chocolate Mirror Glaze?           
Chocolate Mirror Glaze is a classic way to cover cakes, specifically chocolate cakes. It is the most stunning of all cake glazes and is made with the help of a few simple ingredients: cocoa, cream, sugar, water, and gelatin.
Key Ingredients & Measurements
Cocoa – 42 grams
Cream – 80 grams
Sugar – 120 grams
Water – 50 grams
Gelatin – 5 grams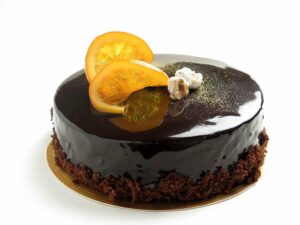 Steps to making a perfect Chocolate Mirror Glaze:
Step 1 – Add cold water to the 5 grams of gelatin and keep it aside. We will use it in the last step.
Step 2 – Put the saucepan on the stove and add water to the saucepan and then add sugar.
Step 3 – Stir the sugar and water mixture and let it simmer. Wait for two to three boils and let the sugar completely dissolve in water.
Step 4 – While the water and sugar mixture is simmering, we will work on getting a smooth paste of the cream and cocoa powder. So, add all the cocoa powder to the cream and stir in a blow.
Step 5 – Take a small quantity of the simmering syrup mixture and add it to the cocoa powder to the cream mixture. Mix it gently will the time there are no lumps of cocoa powder.
Step 6 – To the syrup mixture, now add the smooth paste of cocoa powder and stir it till the time there is a boil. The cream is a very fragile ingredient and it shouldn't stick to the bottom of the pan during the process of boiling the chocolate mixture.
Step 7 – Turn off the flame and let the chocolate mixture cool a little bit before adding the last ingredient.
Step 8 – Add the gelatin to the mixture and stir well and the mixture should turn glossy and shiny.
Step 9 – Let the glaze cool down to room temperature and then either use or store it for later consumption. The chocolate mirror glaze can be stored in the refrigerator or can be frozen in the freezer for up to 6 months.
Watch the video – Chocolate Mirror Glaze by Chef Apurva Kapur
The above recipe was taught by chef Apurva Kapur to the students of the culinary school.